Pinewood, Elmstree, Ealing, Spiderhouse...
Studio, schmudio. Who needs 'em? We thought we could create a pretty good DIY studio space in our own living room, and so that's exactly what we did, replete with lights hanging from polecats, backing cloth and all that jazz. It worked very well, too, thus proving that Hollywood is mainly a big load of arse.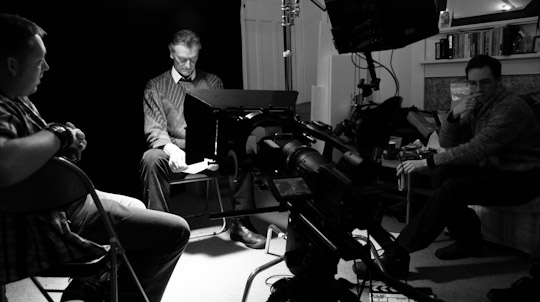 This makeshift soundstage was set up to record some audio with the supremely talented Keith Chanter, who kindly lent his dulcet tones to narrate our little film.
Keith came from furthest afield for this production, travelling from the faraway land of Essex, and we are so glad he did so. He was a lovely bloke to work with, and we can't wait for you to hear how great the narration sounds. Ladies and gentlemen, I do believe we have established the tone of our little movie-film.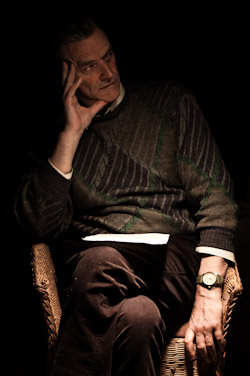 It's a real shame that Keith's role is a voiceover part, as we thought he came across great on camera. C'est la vie. Anyway, as an odd little teaser to anyone following this project's progress, here is a behind-the-scenes sneak-peek at the man behind the mysterious voice;
All in all, it was an easy days recording with Keith. An oasis of calm before the work ahead
"Take this and burn it. Then eat the ashes." (and then again for take 2.)
Back in the 'studio' again, this time with the film's star David Brown. David got to say some actual words this time, imagine that, and it was great to see him breathe some much-needed life into the film.
Alas, we then quickly discovered exactly why it's hardly de rigueur for Indy film-makers to film much stuff in their living room; the noise, the noise, the damn noise. Passing traffic? Check. Evening birdsong? Check. Loud neighbour watching a movie in booming surround-bloody-sound? Check. Jeez, we're trying to make a movie here, what's wrong with you people? Anyway, we thought the film would work better without muffled excerpts of 'Pirates of the Caribbean' on the soundtrack, and so decided to continue recording in the silence of the morning.
But what did we do with the rest of the evening? Well, we took the chance to have another crack at a street scene we had filmed at the very start of production. There were some technical aspects we weren't overjoyed with, and so we took to the mean streets of Newcastle once again and got some much better footage.
All in all, a good weekend with lots of footage in the can. Now all we're missing is an ending. Will anyone notice? Do we really need one of those? I'm just sayin'. Maybe it can be arty.